S/N: 82137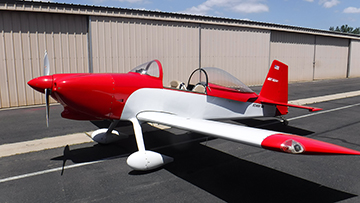 Quick Build (QB) kit -
Additional Pictures
.
Location: San Diego CA – Gillespie Field (KSEE)
Asking Price: $99,950
VFR instrumentation - Dynon 10" Touch
Slider Canopy
I am selling because I am buying Duo Discus glider.
320 hours Total Time - 16 May 2017
First flight date: July 2007
I am the Original Builder
Year painted: 2007
Painted by: SoCal Paint Works - El Cajon CA
There are some areas where the paint has been re-touched.
Engine: Superior IO-360
- HP:180
- Total Time Since New (320 hours):
- Ignition: 2 Slick Magnetos
- Fuel Injection - Airflow Performance
- Vetterman Exhaust
- Engine Purchased new from Superior
- Date of last compression check: Feb 2017
- - Cylinder #1: 78
- - Cylinder #2: 78
- - Cylinder #3: 78
- - Cylinder #4: 78
Prop:
- Hartzell Constant Speed
- HC-C2YR-1BFP/F7496-2
Electric Flaps
Electric Elevator Trim
Electric Aileron Trim
Whelen Strobes
ELT 406 mhz
Complete Dynon Skyview Touch 10" instrumentation
Dynon 2020 Compliant Transponder
Dynon ADSB – In and Out
Dynon EMS
Dynon Auto Pilot
Dynon Intercom
Leather Interior
Cruise 155 Knots at 8,000 23" 2,300 RPM
Condition Inspection Feb 2017
New Condition Inspection with sale
Last flown 13 May 2017
During the same time that I have been flying my RV-8 I have been flying several gliders and another airplane:
• Including an SZD-55-1 – N4310D - Sold -
Image
• A Duo Discus – N32ZH - Sold -
Image
• And a Ventus 2cx – N2222CX - Sold -
Image
• I also built a QB RV-7A N4310D flying – Sold -
Image
Contact Info
- name: John Davis
- voice: 858-229-6389
- email:
jdavis02@san.rr.com
EAA Purchase Agreement Required
__________________
JR Davis, US Navy Retired