Two photos to clarify coil wiring, 4 cyl of course, 6 cyl conceptually similar.
These are coil
packs
, two coils packaged together. Each coil has two spark plug towers, as each coil fires two cylinders at the same time, every time those cylinders approach TDC.
Early coil. Uses a plastic retainer for positive retention of the plug lead cap in the tower. Bottom isn't flat, so it must be mounted on standoffs. This fancy blue one is aftermarket. When viewing the bottom, the individual coils are really obvious.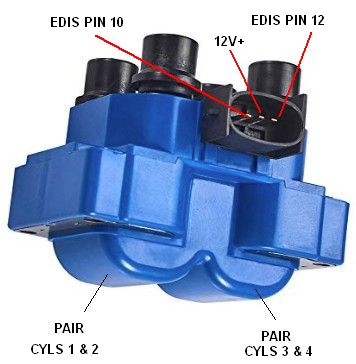 Late style coil, also familiar to P-mag users. Taller towers, flat cast epoxy bottom. Here the individual coils are obvious from the top.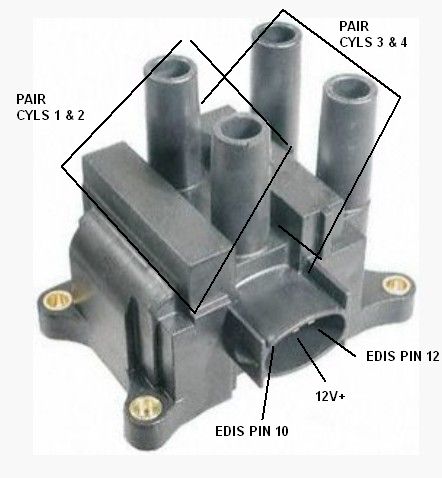 The pinout is logical, and the same for both types. Power is supplied to the center pin. The EDIS module's coil driver circuits switch coil ground, on to build a magnetic field, off to cause a spark. Each coil is controlled by the pin closest to it, with EDIS pin 10 being (in our engines) cyls 1 and 2, an opposing pair.
These are Ford OEM or aftermarket coils specifically intended for EDIS, but I'm pretty sure the EDIS module will fire any similar waste spark coil without an internal coil driver. The module incorporates coil current limiting. I happened to do some measuring recently. Early style coils appeared to be fully saturated, and spark duration with new IKH27 plugs stock-gapped at 0.8mm was 22~24 degrees in the cruise RPM range.