Hello Everyone.
We just wanted to thank everyone for the continued opportunity to earn your business. We count many customers and friends among this group, and we wanted to offer our first group buy opportunity.
We have been really busy over the last 6 months innovating and adding to our product lineup. We thought it would be fun to offer a group buy on a product that we all use on a daily basis when we fly. Our newest product offering is custom wheel chocks. What makes ours stand out is that they are made of aluminum, engraved all the way through for a permanent lasting finish, and then powder coated for a very durable finish.
Our normal pricing is $99.95 for 2 sets of chocks (one set for each main wheel)
We are offering the following group buy:
Qty 10 or more- $99.95 with free shipping (savings of $8.95)
Qty 20 or more- $94.95 with free shipping (savings of $13.95)
Qty 30 or more- $89.95 with free shipping (savings of $18.95)
Qty 40 or more- $84.95 with free shipping (savings of $23.95)
We are going to keep the opportunity open as long as possible in order to get everyone the cheapest price possible. However, we definitely will have these chocks done before Oshkosh, as it would be great to see a large number of them up there with your airplanes.
If you are interested in this group buy, please email us at
steve@aircraftspecialty.com
so I can put your name on our list and get you set up.
Also, please check out our Instrument panel CNC cutting, Powdercoating and engraving which is keeping us busy. Please contact us for more information.
We currently have a few projects under R and D, and plan on releasing more information this fall. One of the items that we are bringing to market will be really unique and we hope that it will be of great interest to the RV community.
Safe flying, and thank you again.
Steve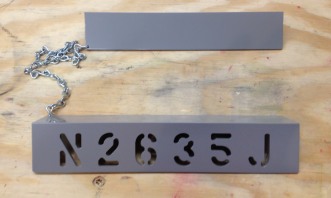 [ed. Thank you Steve for offering this! (A.S. is a VAF advertiser). Steve will periodically update me with a count and I'll update this thread. v/r,dr]