We are
pleased to announce
Garmin's newest aviation portable GPS, the
aera 660
. The aera 660 is a cost-effective, feature-rich, purpose-built aviation portable. The compact 5-inch capacitive touchscreen boasts a bright, sunlight readable display complete with rich, interactive maps and a built-in GPS/GLONASS receiver that can be viewed in portrait or landscape modes for optimum customization. The aera 660 is available at a street price of
$749
.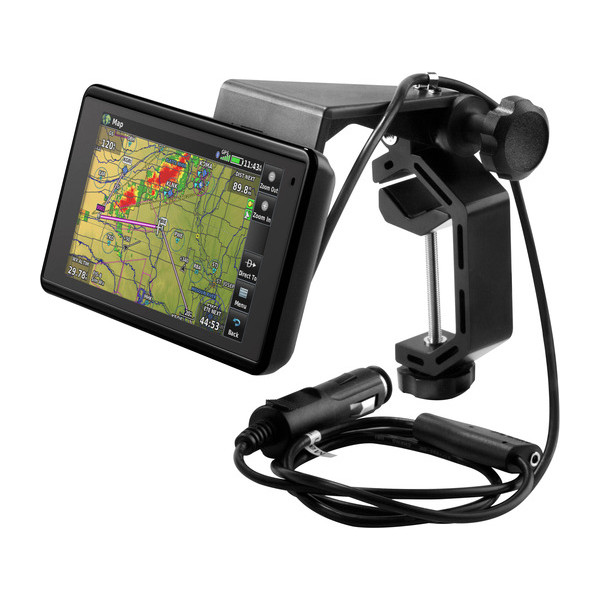 WiFi Database and Software Downloads
One of the most exciting new features of the aera 660 is the built-in WiFi interface which allows the aera 660 to connect to FlyGarmin and easily keep your databases and software up to date. Just add the aera 660 to your FlyGarmin account, and any purchased databases are immediately available for download. It is not even necessary to enter your FlyGarmin user name and password into the aera 660 because it uses the unit serial number to identify you to FlyGarmin.
New Low Cost Database Options
The new Garmin Navigation Database available for North America offers a cost-effective path to incorporate the latest navigation information into the aera 660. The new Garmin Navigation Database starts at $29.95 for a single update. A variety of cost-effective annual bundles are also available such as the U.S bundle for $149.95, which includes the Garmin Navigation Database (including instrument approaches), FliteCharts, IFR/VFR Charts, Terrain, Obstacles, SafeTaxi and the AOPA Airport Directory with fuel prices. For worldwide coverage, Jeppesen NavData is also available for purchase. A European bundle with basemap enhancements specific to Europe is also available.
The airport directory database which incorporates the latest U.S. fuel price data is updated each day before noon (CST), and can be downloaded over WiFi in less than a minute. Navigation database updates can also be updated in less than a minute over WiFi.
Integrate with your panel
Using the supplied four screws, attach the
bare wire powered mount
to your instrument panel and use power, audio, and
dual
RS-232 communication wiring to connect the aera 660 to various systems such as:
1. Aircraft power (14V or 28V aircraft systems) The battery is always fully charged should you have an alternator failure and need to use the aera 660 on battery in flight.
2. Audio – The aera 660 will provide terrain, obstacle, and optionally traffic alerts to your aircraft audio system
3. RS-232 – connect to Garmin SL 30, SL 40, GTR 225, GTR 200, or GNC 255 COM radios to send communication frequencies from the aera 660 navigation database
4. RS-232 – connect to a Garmin GTX 345 ADS-B transponder or GDL 39/39R ADS-B receiver to display free ADS-B traffic and weather
5. RS-232 – connect to a GNS or GTN navigator to receive and synchronize the flight plan in the aera 660 with the GNS/GTN unit.
6. RS-232 – connect to a Mode S transponder with TIS-A traffic to display this type of traffic.
7. RS-232 – connect to an autopilot or other device that requires NMEA data.
The aera 660 quickly snaps in/out of the powered panel mount to allow you to easily take it with you when not flying.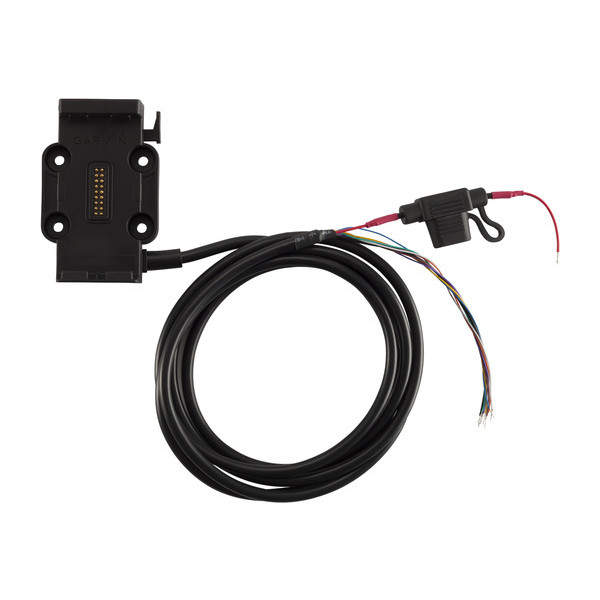 ADS-B Traffic and Weather
When using wires or Bluetooth to connect to the GTX 345, Flight Stream 110/210, or the GDL 39/39R/39 3D, ADS-B traffic and weather is displayed on the aera 660. ADS-B traffic information may be viewed on the moving map, chart and dedicated traffic pages, which also leverages patent-pending features such as TargetTrend™ and TerminalTraffic™. Traffic trajectories and potential conflicts are easier to identify with TargetTrend, which incorporates relative motion technology to help pilots visualize the future position of nearby traffic targets relative to the aircraft.
Using the aera 660 as the ADS-B traffic and weather display for a GTX 345 transponder with built-in ADS-B receiver is particularly effective. Wire up the GTX and optional traffic/terrain/obstacle alert audio, and you can have a great navigator with ADS-B traffic and weather. The GTX 345 has 4 serial ports, so there is plenty of opportunity to implement a high reliability, no-fuss interface. The aera 660 is 5.5" wide x 3.4" tall, so it easily fits in an area on your radio stack above the GTX 345 if you choose.
Continued in next posting - 10 picture limit!