| | |
| --- | --- |
| n982sx | 11-07-2016 11:16 PM |
---
Here's mine. RV-14A N626KM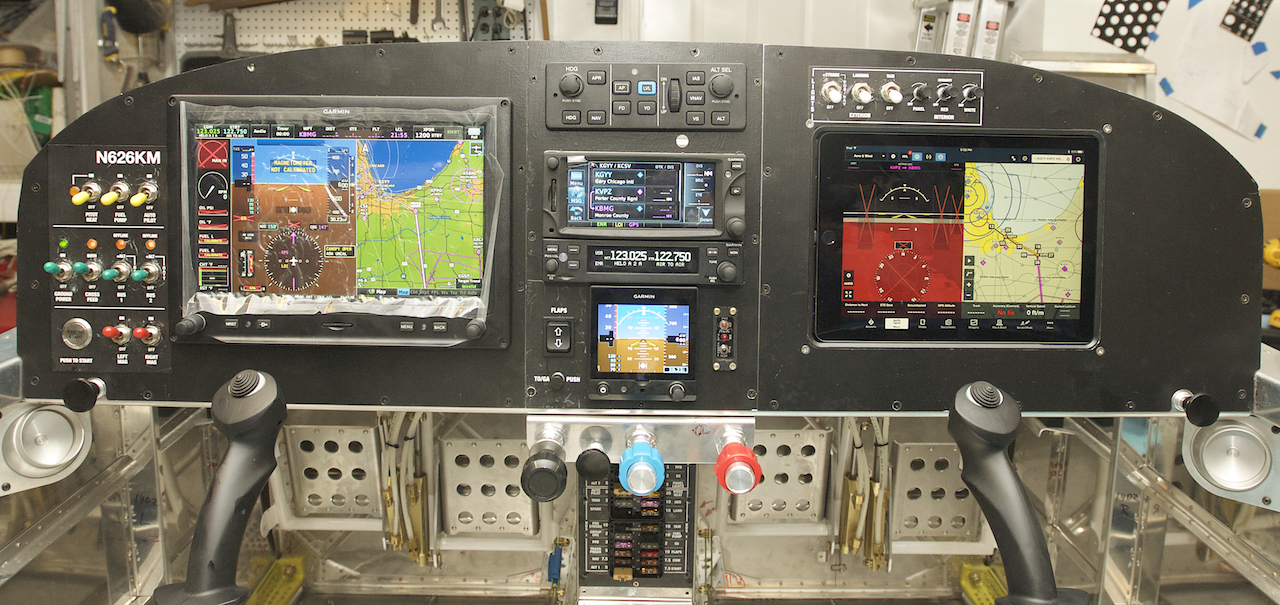 I went with an iPad instead of a second Garmin screen. It interacts well with either Garmin Pilot or Foreflight. For attitude/airdata backup I went with the G5.
In the picture, the PFD, Navigator and iPad are all sharing flight plan info. The PFD won't pass attitude info yet, because it doesn't know where it is and the magnetometer is not calibrated.
The 625 navigator has a built in demo mode and when in use all three devices talk with each other with simulated data sent from the 625. I have simulated several flights.
=======================
One year later.
The airplane is currently being painted after 110 hours of flight since first flight in June 2017. The panel has performed as well as I had hoped. I almost never actually touch the radio as I use the G3x interface to tune. Usually from the nearest or flight plan submenus.
I use the iPad and Foreflight to create flight plans or alter them and just send the new plans to the G3x and 625. Surprisingly less touching of the 625 than I thought I would as well. The iPad is very easy to remove or put back into the panel so I take it out after getting established in cruise, using it if needed to alter the route, and them putting it back in the panel for descent and landing. I also use Foreflight to examine weather in flight as it presents a better way to read and access weather data than the G3x weather page.
I setup the autopilot with the initial setting supplied by Van's for the G3x and the 14 and have had no issues with them so they remain unchanged.
I have enabled envelope protection and have had one minor and comical issue with it. Twice, after refueling, I have powered up the system and before starting the engine to taxi back to the hanger, the protection system has automatically engaged pushing the stick forward with a warning while I'm sitting still on the ground without the engine running. I have to disengage the AP to get it to stop trying pushing on the stick. Nothing like that has happened in the air