---
RV-1 at the Virginia Festival of Flight.

I'm just posting a few photos right now and may add more later. The weather was cool with low ceilings and afternoon rain, which resulted in low attendance. A lot of folks however visited RV-1. Some knew all about it and others had little knowledge of aviation, so the Fly-In and RV-1 both attracted a good cross section of people.
This was a scene you'd see frequently until the rain came - everyone wanted their picture with the RV.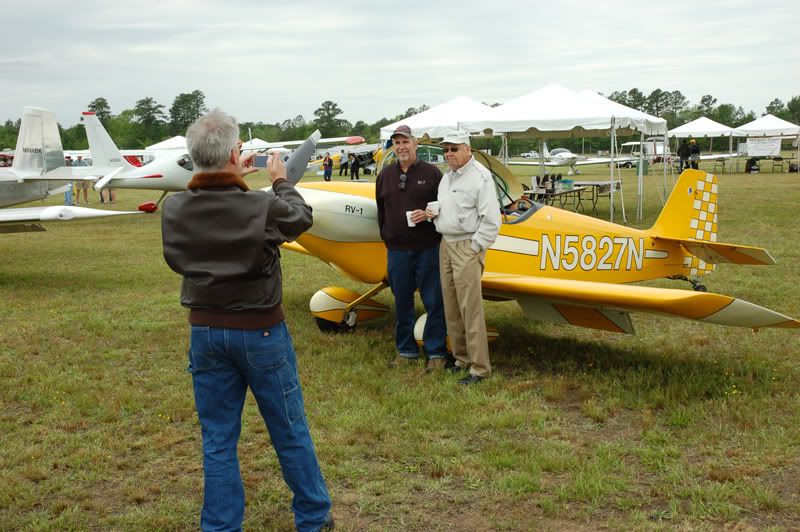 Here's a combination VAF hat sighting and a photo op with RV-1. On the right is scrollF4 (Sid "Scroll" Mayeux, Col, USAF, a member here and an RV-7a builder) and on the left, is Steve Steinbeck, who enjoys visiting me to help move my very slow RV-9a build along.
Finally, the rains came in a little after 2 pm and RV-1 was put in the hanger early. The Fighter Factory volunteered the hanger space, and provided some interesting multinational company for RV-1. On the left is a Polykarpov TU-2, that Russian Night Witches used to harass German invaders during WWII. They flew at night. Immediately behind RV-1 is another piece of Russian history, a MIG 3. Further back is an A-26 (USA) and out of the picture to the right is a ME-262. Vlad is in the photo (he just pushed RV-1 in and is standing by the prop) - he seemed to enjoy the planes and the fact that Tom Kurtz (chief mechanic with the FF) knew his Russian aircraft history better than a lot of Russians.