See my original post #1 above.
I decided to get serious and find the source of rough running engine at low / mid-range speeds. I contacted Lockwood Aviation to ask if they can test ignition modules for intermittent operation. They can only test for spark - no spark.
Dean Vogel at Lockwood suggested several troubleshooting steps to identify if problem is related to carb or ignition. He said to start with carb first. Here is the troubleshooting step he describes… Put the engine where it's unhappy – say, 3500 rpm on ignition circuit B – and pull the choke full ON. You are likely to get an rpm rise. Ignore that. What you are looking for is, does the roughness get better or worse, or does it stay the same. If it gets better or worse, the problem is likely to be carburetion. If the roughness stays the same, the problem is likely to be ignition.
I did this carb test and found that my engine runs extremely rough with the choke pulled out on either/both ignitions. I did the same test on a friend's RV-12 and it ran much smoother with the choke pulled out. So, I bought a Bing 64 rebuild kit ($252) and disassembled one carb at a time. Carbs were very clean with 480TT. I run Mogas 93E10 exclusively. I changed all O-Rings, gaskets, diaphragm, and float needle. I cleaned and blow-out all passages with Gumout Carb spray cleaner.
One caution to note: The Rotax Heavy Maintenance Manual has an error for assembling the enrichener choke. The manual says choke labeled "L" is for carb cylinders 2/4 and choke labeled "R" is for carb cylinders 1/3. This is incorrect and indeed the opposite is true.
Below is excerpt from Rotax Heavy MM…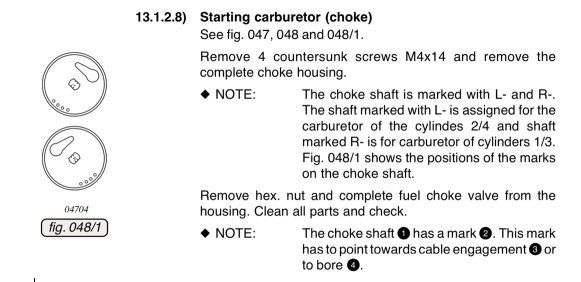 Even though the original symptom seemed to indicate a fault with the "A" ignition it turned out to be carburation. Overhauling the carbs with all new rubber parts including rubber-tipped float needle has solved the problem. A very careful synchronization provides smooth RPM transition from idle to full throttle and back to idle. This is particularly noticeable when reducing throttle in the air and the engine is being back-driven in a glide.
Here are good YouTube videos that explain idle circuit and enrichener for Bing Constant Velocity(CV) carbs…
https://www.youtube.com/watch?v=S-fUkEEiork
https://www.youtube.com/watch?v=hDsJH1Y9W_U